Yo guys,
Umm yeah, Brisbane. In years from now they'll make a movie staring the son of Kurt Russell where he has to get into Brisbane on a bicycle and out again in 24 hours before being killed by someone in a V8 ute with "Black Beauty" written on the back. I haven't decided yet if Brisbane is the worst city I've ever cycled through. It's in competition with Athens but I don't know, the Greeks are chaotic by nature. Athens is an expression of their culture so I can kind of forgive them. Plus in Athens I didn't get the impression the car drivers were trying to kill me. More they were trying to kill everyone and I was in the cross fire.
Brisbane felt personal. It felt personal on a number of levels. There's a cycling magazine in England called Cycling Plus and they have a feature where people send in the most stupid cycle lane design they encounter on their travels. It seems the people who designed Brisbane's cycle lanes read this, maybe missed the point of English humour and thought it was how cycle lanes should be. After being "politely" instructed by numerous car drivers that maybe I'd be better off on the cycle lanes/pavements I thought I'd give it a go. So it was cycle lanes that just end with you on the wrong side of the barrier, cycle lanes that end up on roads where cyclists aren't even allowed so you have to track back miles, cycle lanes constantly interrupted by traffic lights where you have to dismount from the bike and walk across the road.
Then there's the drivers. Obviously taking their lead from the council they've also developed a pathological hatred of cyclists. Kids lean out of cars and try and scare you into falling under the wheels of following trucks. People beep violently if you've had the temerity to get in their way. There's also a clever little cyclist killing trick of making the far left lane for left turning traffic only except when it isn't but which is kept a secret. So you stay in the left lane only to find out it's a left turning lane and so every car behind now wants you hung, drawn and quartered or you get in the second lane to find out the left lane is actually a straight on lane and so find yourself in the middle of the road with a bunch of V8 utes screaming up your inside. Hours of fun. I say hours literally because Brisbane a big city. Everyone wants a couple of acres so it sprawls for miles. Hopefully you're getting the impression I wasn't keen on Brisbane. I'd rather tackle Bangkok blindfolded than cycle through Brisbane again.
One more thing happened to me in Brisbane that really sealed my dislike for the place. The newspaper had asked me for a Christmas photo of me in a Santa hat. I cycled past a fancy dress shop, popped in and explained I was cycling round the world to raise money for cancer and would they mind letting me use one of their Santa hats for 3 seconds just to get a photo. The guy behind the counter said yeah and charged me 17 dollars for the privilege. Thank you Brisbane.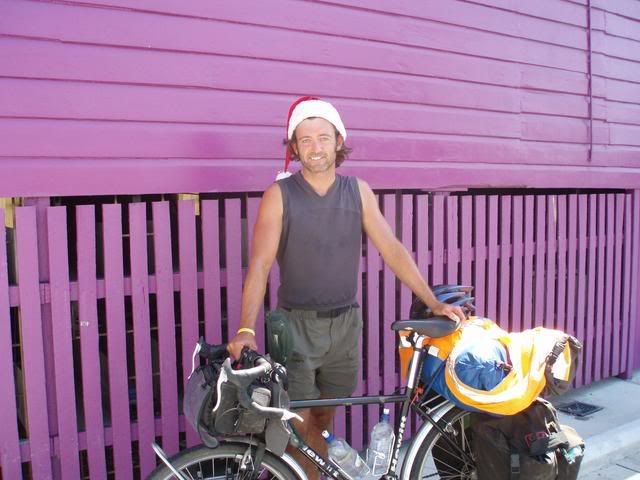 Eventually I escaped Brisbane and headed south for the 1000km journey down to Sydney. Brisbane left me feeling pretty down but the beauty of this journey is that there's always something positive around the corner to lift you. Leaving Brisbane involved a great little climb over Mount Tamborie. The locals had all warned me about tackling this climb. Trucks avoid it I was told, 90 degree climbs and plenty of hairpins as a bonus. I was considering chickening out and going the long way round but I thought I'd try out one of the lessons I'd learnt that hills are relative. If people live on a flat then every hill becomes a 90 degree climb. Turns out this maxim holds true and the hill was maybe a 7 km 1 in 10. Just perfect and when I got to the top my mood was lifted by fantastic panoramic views of the entire Gold Coast.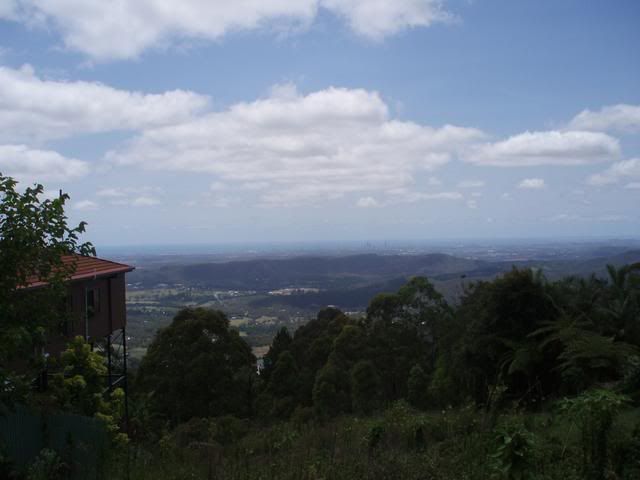 I headed out towards Surfers Paradise on the Gold Coast. Surfers Paradise looks to be a complete misnomer. The place should be renamed to Paris Hilton's Paradise as it's just blingtastic and oozes nouveau riche. Massive houses and gold Mercs are two a penny and as with many of these places, not really suited to a dirty touring cyclist. I kept heading south trying to find the point where the madness of development and bling stopped so I could find a place to camp for the night.
Eventually I found my way across the Queensland border and into New South Wales. An instant and welcome change was that signs started to appear warning car drivers to be careful about cyclists. As soon as you cross the border the hard shoulder of the Pacific Highway becomes a 10 foot wide cycle lane which is a complete contrast to the "NO CYCLISTS" signs you're faced with north of the border. This also has an effect on the way car drivers treat you. Now you belong on the highway and the drivers respond accordingly.
I started meandering along the coast line, kicking in to the small towns if I felt like a break from the highway or saw a famous name I recognised. I cycled through Tweed Heads and Byron Bay my idea of what Oz beach life would be like. Byron Bay was important from a personal perspective because it's the most easterly point on mainland Australia and meant that from now on I'd be heading in a westerly direction and away from the cursed wind that'd been torturing me every day for 3 weeks. Instantly my mood lifted. Riding the bike became a pleasure again instead of a constant grind into a vicious headwind.
It's amazing how giddy a tailwind makes you. Next thing I'm riding along thinking that maybe, just maybe I'll do more than the 16,000 miles I'd set out to do at the start of this. This got me thinking about taking a different route through North America. My original idea was to head straight across the southern states from San Diego to Florida but I'm now considering heading up the West Coast of America into Canada and then heading East and running parallel to the border until I reach my goal of 16,000 miles and then decide if it's time to come home yet or stick a loop in. As always we'll see.
I'd been doing some calculations on my mileage and it was looking like I'd be halfway round the world on Christmas Day. I didn't need to do anything special for this to happen, just keep putting in my usual daily miles. I knew Christmas day was going to be tough for me and thought it an amazing coincidence that I'd pass the halfway mark on the day I'd most need something positive to focus on.
I met a guy in a rest area just south of Coff's Harbour. He was sitting in his car doing massive bongs and invited me over to join him. I declined his offer of the bong explaining that if there's anything that'll stop me doing any miles, it's doing bongs in a rest area. He was a cool guy though and offered me a place to stay when I got down to Sydney. He also recommended a place to stop for Christmas Day. A place called South West Rocks which he explained had a great little campsite in the national park for a few dollars a night.
On Christmas Eve I headed for South West Rocks not really having any idea how far it was but kind of hoping it wouldn't take me over the 8000 mile halfway mark. As luck would have it I reached the campsite on 7998 miles. In the morning I woke up and headed out of the campsite and noticed a sign saying it was 2 kms to the South West Rocks lighthouse. It felt like fate that my half way mark would be exactly at a lighthouse which would have served so many travelers throughout the years. I headed up the hill and exactly at the top and I mean exactly to perfection, I crossed the half way mark in front of the lighthouse.
I took some pictures, hassled some kangaroos and sat contemplating how I felt. I know it's just a number but being half way is significant. I remember when I was a third of the way and it was somewhere in the outback. It was 43C and I remember thinking that even with all the miles I'd traveled, all the difficulties I'd had in the outback, I still had to do it again, twice over. Half way felt different. What lay ahead was the same as what lay behind and I'd conquered what lay behind. Also it felt like I was now heading home.
As expected I spent Christmas Day on the bike. It wasn't too bad though as I had a lot of calls from people wishing me well and the customary drunken call from all my mates drinking the Black Horse dry while singing Christmas songs. Santa brought me all that a long distance cyclist could wish for on Christmas Day. I even had a monster tailwind. Other good news was that we'd made the front page of the local newspaper which was a great little piece with plenty of mentions about Macmillan and quotes from friends. The link below is for the article on the Brighouse Echo website.
http://www.brighousetoday.co.uk/ViewArticle2.aspx?SectionID=986&ArticleID=1940807
From South West Rocks I had another 300 miles or so to Sydney and with the tailwind it was easy cycling all the way although I started to encounter my first serious hills for a long, long time. As I approached Sydney I decided to stop off at an internet cafe and do some research about the best way to enter the city on a bicycle. I found a website by some Aussies who'd done the run from Brisbane to Sydney which had some good details about the best way to get in there. I cycled to the ferry near Woy Woy and then across Broken Bay to Palm Beach, then a short ride to Manly before catching the final ferry which brings you into the terminal between the Opera House and the Harbour Bridge. I don't know why but coming into Sydney on the ferry was emotional for me. I guess Sydney is special from an English perspective because it's one of the most famous cities that's on the other side of the world from England. It's also a fantastic looking city and I was arriving at sunset with the sun dropping down behind the skyline and the Opera House and the Harbour Bridge starting to light up. I guess the ferry also gave me more time to reflect what had gone before and what was needed to get me to this point. I took all the clichÈd tourist pictures, sat around and watched the city go by. After a few hours I decided to head out of the city and made the wise choice to train it a few kms out of the centre to Sutherland and make camp for the night near the National Park. I left Sydney feeling much more positive about the city than I had Brisbane and I think it's a lesson learnt that I don't always have to try and tackle big cities on the bike.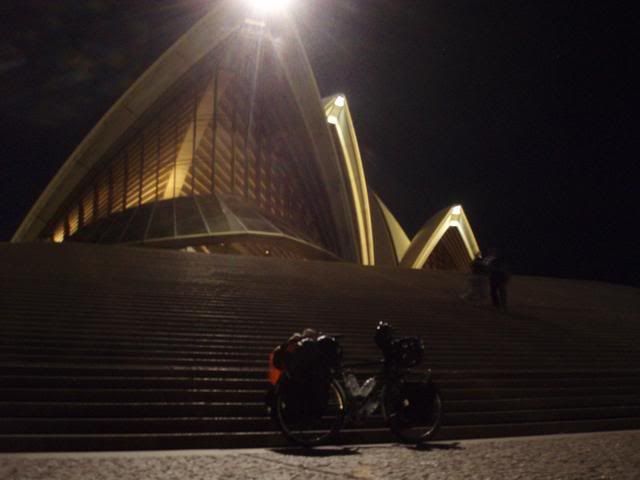 My original intention was to spend New Year in Sydney but as with everything I cycled too fast and arrived too early. I hit Sydney on the 28th and spending 4 nights in a big city at that time of year would be both expensive and impractical. The other issue was that my flight for New Zealand is booked for the 13th of January and it's 1000 kms to Melbourne and allowing for hangovers, I'd have realistically left Sydney on the 3rd which would have meant 1000 kms in 10 days. Granted I've done that a fair few times but there'd be no allowances for any breakdowns. The bikes done a lot of miles now and while it's been fantastic I can sense a few things aren't 100% so I figured getting as close to Melbourne before taking by foot off the gas would be the best option. The other thing is that I knew nothing about the terrain which lay ahead and if the hills I'd encountered north of Sydney were to continue then 1000 kms in 10 days would be a tough call. So I left Sydney and headed for Melbourne and the final part of my journey through Australia.
Catch you all later,
Lot of love,
Craig. XXX