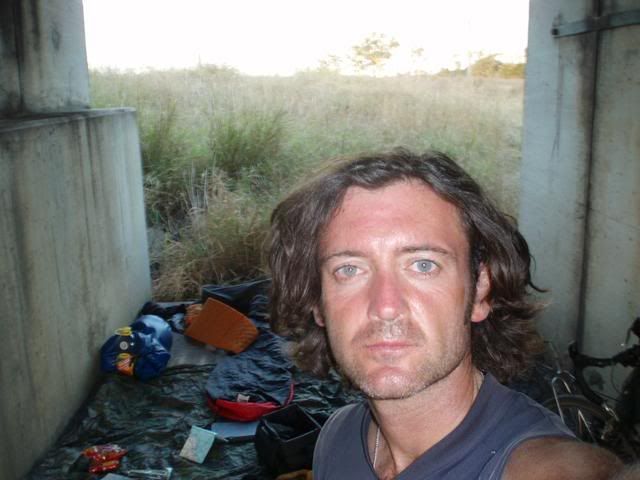 Hey Shelias and Bruces,
Well I'm in my first city since Singapore which in all honesty feels like a lifetime ago. I'd forgotten how unwelcoming and difficult city riding is for a guy on a 50kg bike. I'd been in Brisbane maybe 30 min before someone told me to "f**k off and ride on the pavement". It's strange but you can sense when you approach a city. You go from being the all conquering hero of the outback into an obstacle costing people their precious 30 seconds. Suddenly signs start appearing telling you when and where you can't ride but they offer no alternatives. Just "NO CYCLISTS" plastered everywhere. People stop talking to you and questioning where you've been. Ah well, quick internet break and I'm out of here.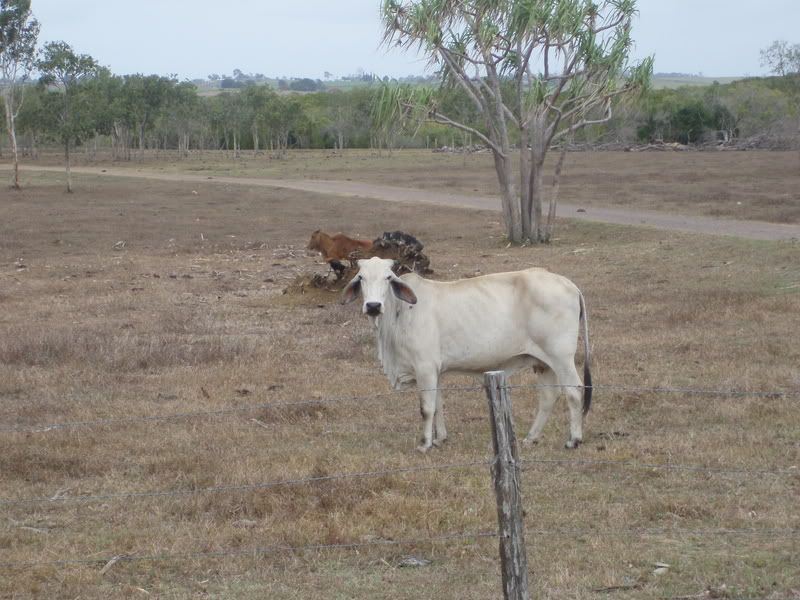 What's happened since I left Mackay? Surprisingly little. As the population density increases so the opportunities to meet people seem to decrease. One of the great mysteries of modern life. More people, less contact. The day I left Mackay the weather took a turn for the worse and so after 50 miles of riding I decided to find cover and rest for the night. I found the only dry spot for miles under a bridge. People ask me how I can sleep under a road bridge with the cars and trucks passing overhead but I guess the sounds of trucks and cars are pretty much a constant in my life now.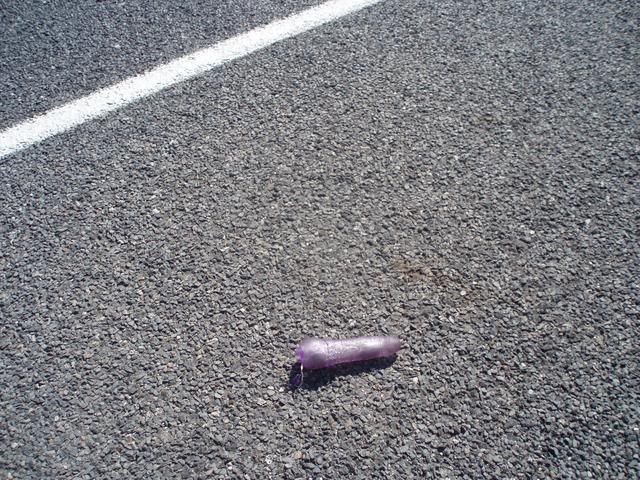 3 days riding got me to the town of Rockhampton, back over the Tropic of Capricorn and into the sub-tropics. It was a tough ride as I had my usual South Easter blowing 30 knots right in my face. I did some calculations the other day and since I left Cape Tribulation 21 days ago I've had a headwind everyday except for a 4 hour break I got a few days ago. It's my fault as I'd checked the prevailing wind directions before I cycled Oz but then changed my route and didn't recheck. I should have headed down to Adelaide from Alice Springs and then headed North up the East Coast. A positive was when I met a Swiss professional cyclist coming the other way and he said he doubted he'd have the motivation to face that wind everyday. I felt pretty honoured to be complimented on my motivation by a guy who cycles for a living.
From Rockhampton I headed to Bundaberg. I decided to take a different route and leave the highway as I knew the route would have more hills and when I'm getting hammered by a headwind I find the hills tend to negate the effect to some degree. I pulled off for the night into a small town called Rosedale looking for some water and a place to camp for the night. While there I got talking to the a couple of locals. A bloke on a motorbike explained he had 100 acres of land just a few kms out of town and I was welcome to set up camp there. He introduced himself as Bill and I followed him out of town and onto his land. He'd bought 100 acres of bush land with no buildings and lived there on his own in an assortment of shacks and caravans. After cooking me a much welcomed meal we sat talking over a bottle of wine and his story was one that's become a familiar one to me now and always seems to start with a woman. If I had a fiver for every eccentric who's story starts with a woman I'd be able to cycle round the world indefinitely. Why is it that women just get some crisps, dips, a bottle of wine and hire out Bridgette Jones yet men feel the need to withdraw from society or get pulled round Oz by a pair of camels? Actually I think I know that answer to that question.
I headed south out of Bundaberg and got my 4 hours of tailwind. I'd forgotten what tailwind felt and how much of an impact it has on my mood. Sometimes when I've been up against a headwind for a few hours I'll turn back on myself and cycle the other way just to feel a tailwind for a few metres. Sad I know. I guess every silver lining has a cloud though and in this particular case it was literal. As I climbed up a hill towards the town of Tiaro I noticed what looked to be some pretty ominous dark clouds ahead. I figured that with the wind behind me I'd be able to stay in front of the storm but man was I wrong. As you enter Tiaro from the north there's a sizeable mountain beyond the town and in the space of a few seconds the mountain just disappeared and I was looking at storm clouds which normally appear in Hollywood blockbuster movies. I took shelter in a servo and a few minutes later the storm hit town and after taking out the power managed to provide one of natures more awesome displays. I haven't seen anything like it since I lived in South Africa and it was pretty exciting with winds that took trees down and hailstones the size of golf balls. Of course all the Aussies told me that was NOTHING and normally they have hailstones the size of New York but I was impressed. I left town after the storm had cleared only to get 20 kms before getting hammered by another storm. I've never cycled in anything like it and the weather was severe enough that I had people stopping and offering help. Luckily I knew there was a rest area a few kms up the road so I battled through and arrived at the rest stop to a rousing cheer from the people who'd gathered in their cars for protection from the storm.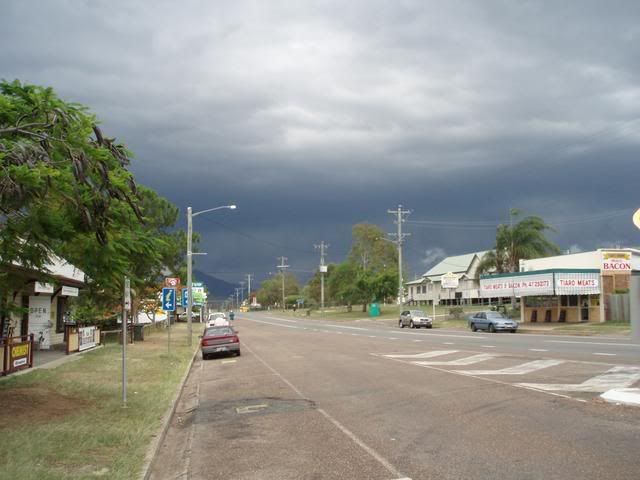 I arrived in Brisbane last night and camped in a place called Nudgee Beach just to the NE of the city. My intention now is to leave the city and begin the 1000kms or so south to Sydney. Based on my average mileage I should hit Sydney around the 29th/30th December. I have no idea where this puts me for Christmas day but I'm not sure how relevant it is. I have a feeling this will be the time of my journey when being alone has the most impact on me. Christmas is a time for family and friends and so I reckon my chances of meeting people are seriously reduced and with this in mind it's probably better that I spend the time on the bike. It's not a big deal as I knew this would be the case and it's a fair trade for all the wonderful experiences I've had so far. On a positive note I expect to be exactly half way round the world on Christmas day. I'm quite curious how it'll feel as from that moment I'm technically on my way home.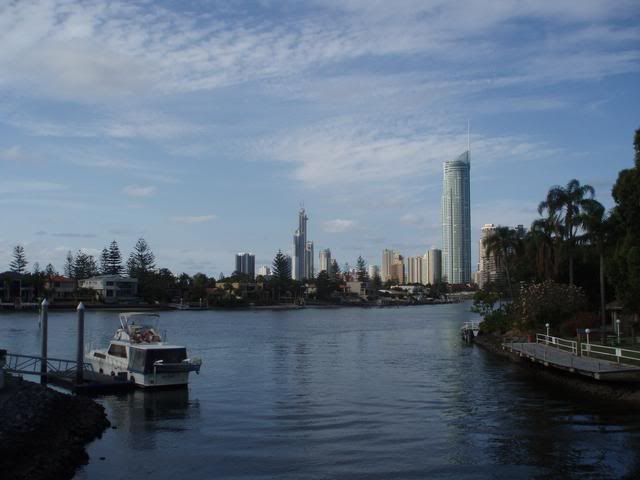 For New Year I may spend a few days in Sydney and check out their world famous celebrations. It depends on the time really. My visa runs out January 13th and I plan to fly from Melbourne which is another 1000kms from Sydney. This equates to about 10 days riding time so I'd need to leave Sydney pretty much on New Years Day or maybe the day after. I'm now flying to Christchurch instead of Auckland as these were the only flights I could get. Not sure what this does to my route plans but it won't be the first time my route plans have changed nor the last I suspect.
I'm expecting to spend 3 months in NZ but as with everything so far, we'll have to see. I'm going to see if I can take a little of the pressure off myself in NZ. I set myself a pretty difficult target for Oz of 5000 miles and based on my current progress, my round the world would take just over 10 months. Since I started I've wanted to do it in less than a year. Round the world on a bike in under a year has a nice ring to it don't you think? This means I could take longer on the second half of my journey and still make it under a year. I don't know. Sometimes I think I just love to keep moving and so I'll keep this pace going. If I get home and I want to start moving again then I know the answer.
Anyways guys and gals best go and see if I can get the hell out of this city. If I don't get to fire off another email before Christmas have yourselves a merry one and have a few drinks for me.
Lot of love as always,
Craig.
XXX