Yo peeps,
Today I have that rare commodity being a day of rest, free internet time, an endless supply of cups of tea and a comfy chair so yes, it's email time.
I sent my last update from Mataranka after solving the great Aussie question of "how the hell do you cycle through this damned place". The riding at night thing has proven to be of immense benefit in so many ways. In reality I haven't actually had to do as much cycling at night as I expected. On average the roadhouses are around 60miles/100kms apart and my day usually consists of leaving the roadhouse at around 5ish, cycling till 9 which gets me around 40miles/64kms before I make camp for the night, crack open a Stagg Chili with baked beans and have a cup of tea. In the morning it's then up at 5:30, leaving camp at 6 and riding the last 20miles/32kms to the next roadhouse for breakfast. The roadhouses usually have grassy shaded areas where I spend the next 8 hours or so reading, dozing and drinking copious amounts of liquids.
Cycling this way has been beneficial in numerous ways. The first, most obvious and most important is that I've reduced my chances of dying from heat exhaustion/dehydration. Most of the time I'm cycling into my next water stop with around 3 litres to spare and that's with being pretty liberal with the water and using it for luxuries like cleaning pots and pans and making cups of coffee at night. If the gaps were greater I could rein that in and have more water to spare. The second benefit is that I'm now in the roadhouses/rest areas during sociable hours which means I'm always meeting the various people that flow through this great part of Australia. Apart from reducing the sense of loneliness, this has really increased my interaction with the real outback with it's myriad of characters.
After Mataranka and a swim in the hot springs I headed for the next town of Larrimah. I pretty uninspiring place. Northern Territory (NT) isn't renowned for it's customer service standards. I guess we need the goods and there's nothing for miles in either direction so we're going to buy the goods whether it's served with a smile or not. Add to that the notorious laid back NT attitude and you're getting your food pretty much thrown at you at some point in the distant future. Someone told me that a famous NT saying is "not today and not tomorrow". The strange thing is that amongst all this hardness you still find plenty of kindness.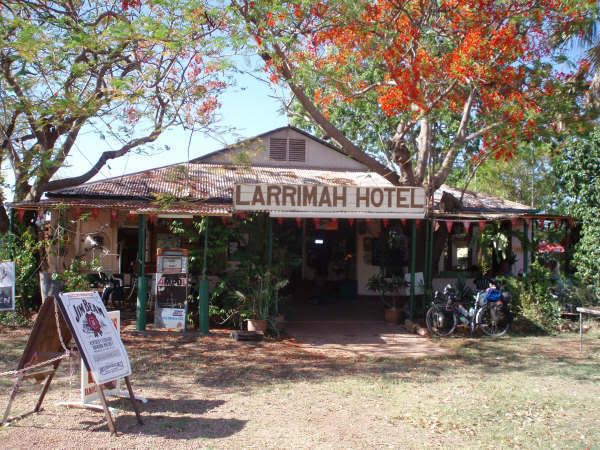 It was in Larrimah where I met Fritz the mad German cyclist. I was sitting minding my own business reading War and Peace when this excited looking and sun burnt man ran up to me and shouted "YOU WITH BICYCLE YA???". He sat himself down without waiting for an answer and started talking at 500 miles an hour in a strange German/English hybrid. We did the usual where you been, where you going and it turns out he's been cycling round the world for the last three years and has done pretty much the entire South and North America coast line including Alaska. I'd read about this guy when I was researching my trip and it just feels weird that I'm now a fledgling member of this group of people doing stupid things like cycling the Oz outback. People who I consider to be my heroes I'm meeting in roadhouses in the middle of Oz. The strange thing is that even though I'm not on a level with the likes of Fritz, other people now look at me in the same way. I don't feel crazy, brave or even that what I'm doing is special and it just seems like this is what I do. Sometimes it doesn't even feel like it's me that's doing this. It's like I'm watching someone else cycle round the world.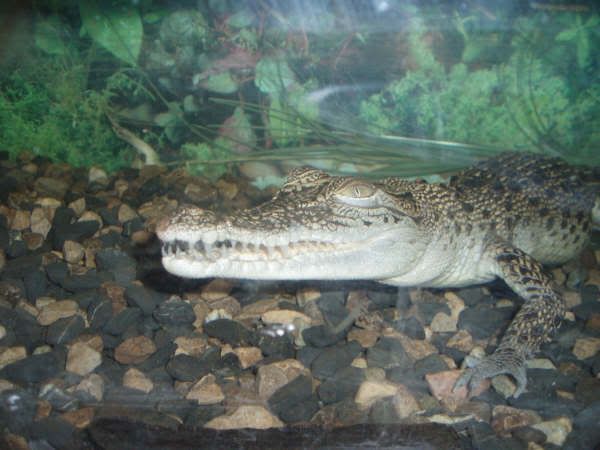 Fritz was definitely crazy though. At one point we were chatting and he was telling me how much he loved South America and then said he'd been mugged there 5 times, laughed out aloud and did the Greek slapping me in a hearty way thing. His English wasn't good enough for me to figure out if he loved South America BECAUSE he'd been mugged 5 times or in spite of being mugged 5 times. A measure of his craziness is that even now I have no idea which it is. I assumed he'd be hiding from the heat of the day in the roadhouse for a few hours but after an hour he stood and declared he was off again. I pointed out it was 38C outside and maybe he'd be better off waiting for a while but winking at me he led me to his bike to show me his secret weapon. His bike had a BOB trailer attached which is pretty common amongst long distance cyclists. He'd modified it so that half of the trailer contained a closed box which was insulated like a cooler box. He bought a packet of ice, loaded it into box and explained that he stops every 10 miles and dips his shirt into the cooler box and so manages to keep his body temperature down. The rest of the trailer was taken up with bottles of normal water and I reckon he was hauling around 20 litres with him. Crazy or not the man's a hero.
After Larrimah I headed on down to Daly Waters which is a famous outback pub. I arrived at Daly Waters around 8 in the morning for my usual breakfast and 8 hours of War and Peace. The girl working behind the bar was a great looking girl from my birthplace of Birkenhead. We got chatting and she asked me what I'm doing and I explained about the round the world charity thing and then sat down with my endless supply of milk and a book. At the end of her shift she came over and said the staff were donating their tips for the day to Macmillan which considering where we were and how hard the life is in these places, is pretty fantastic.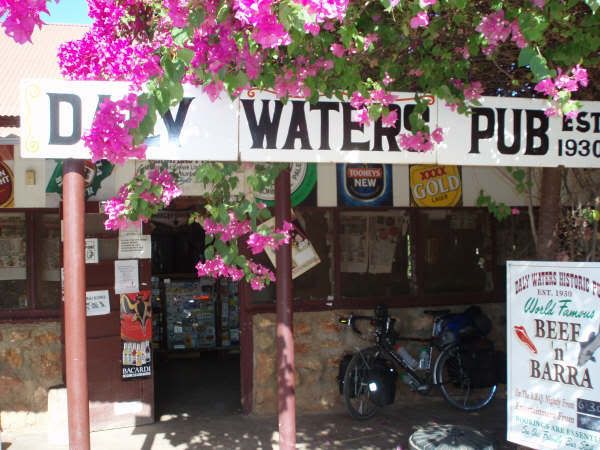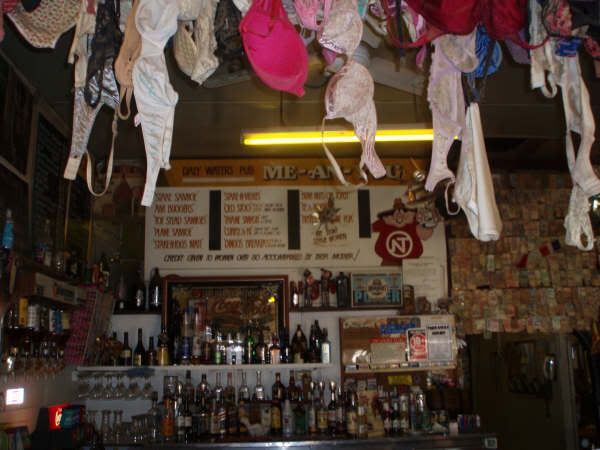 Before my next planned stop of Elliot I had that rare luxury of a spare roadhouse. Two roadhouses in a 100km stretch is pretty much unheard of round these parts so I stopped and had more milk. The lady behind the counter asked me which way I was headed and when I said Elliot she said "Oooooooohhhhhhhh it's dangerous down there". I asked her what she meant because one of the things I've learnt about NT is that when someone tells me somewhere is rough or dangerous it means it has a big Aboriginal population. She wouldn't say though and just told me to avoid the place at night.
The Aboriginal situation in NT is an interesting one but I'm not going to pass judgment because in the absence of enough knowledge I don't consider it fair. I can see that something isn't quite right and I can that people are trying to help. The results don't look great to me though. You walk into any town at any time of day and there's usually large groups of Aboriginals hanging around and you can see there's just no hope there. Domestic violence, low life expectancy and alcoholism look to are common problems. I've been trying to find some books which will give me some historic insight so I can form more in depth opinions but, as a subject matter, it's still quite raw and fresh here so the books tend to be incredibly polarised. I'll keep searching but bookshops are a bit thin on the ground for now.
After Elliot which was nowhere near as threatening as Halifax on a Saturday night I made my way to Renner Springs. What's amazing about most of these places is that they aren't even on the national grid and all power is supplied by generators out back. The lady who owns the place was saying they use 375 liters of fuel a day just to keep the place powered which is one of the reasons everything in the outback is so expensive. Renner turned out to be a busy little spot by outback standards. Some guy was there who I'd been talking to back in Mataranka and it's surprising how often you bump into the same people even though they're traveling by car or truck and I'm on a bike. A lot of people head up to Darwin and then back down again so I get to see them again on the return trip and everyone is always interested in how I'm getting on. The bike is a bit like having a cute dog or baby as it gives everyone an in on talking to me. If I'm feeling like a bit of quiet time I have to sit away from the bike or pretty much everyone comes over to have a chat and I can spend an entire day repeating the same stories. It's strange because sometimes when I'm not with the bike I feel a bit like a a major part of me is missing, almost that I have nothing of interest to offer people. I guess it's because what I'm doing HAS become my life. I haven't seen an international newspaper in such a long time that my current affairs knowledge is zero. I haven't watched television since I left England. I know nothing about sport or current popular culture. I don't have all the normal conversation hooks that other people use to communicate. I've become a kind of one trick pony.
Another interesting thing is that because people I meet instantly assume that what I'm doing is more interesting than what they're doing, it's difficult to have a two way conversation. I ask people what they're doing, where they doing and they usually mumble something and then say it isn't as exciting as what I'm doing, like they feel guilty for not cycling through the outback. It can become frustrating because I love hearing about what other people have been up to and what they've seen but I have to really make the effort to get them talking about themselves. On the plus side everyone wants to take pictures of me with the bike so I'll be in people's photo collections all over the world.
At Renner I also met a French guy hitch hiking round the world. For those who have seen Monty Python's Life of Brian he was just like the mad guy living in the hole with the Juniper Tree. In a previous email I'd said that it seemed like a great way to travel but I've changed my mind for a couple of reasons. The first is that hitch hikers don't have that ability just to get up and leave if they don't like somewhere. They're always dependent on the help of others and I'm not sure I could do that constantly. The second is that no one respects the hitchhiker. People just seem to view then as someone trying to get a free ride in life. The view is more prevalent in places where resource is scarce but I think I'd rather know I was getting round on my own steam. The guy got a lift eventually but not before he'd had to hassle a lot of people. People don't mind offering help out here but they don't like being hassled or to feel you're trying to get something for free. Everyone just has to work too hard for what they've got for that to wash.
I stopped off at a rest area 30 miles after Renner as I had the mother of all head winds and had no way of making it to the next roadhouse before the midday sun kicked in. While I was at the rest area the kindness of the various travelers came to the fore and I had a constant supply of people stopping, making sure I was alright and giving me food and drink. It's mostly the oldies traveling Oz with their gigantic caravans that seem to stop. Think they're called the grey nomads as they spend months, even years just traveling round Oz after retirement. It's like having loads of grandparents and they're always worrying and fussing I'm fully watered, fed and know exactly how hot it is. Some old fella stopped off just to tell me it was 42C. As long as they don't start giving me dire Christmas jumpers then I'm happy.
I've also had a few conversations with the guys driving the road trains. I like to check if they can see me at night and the reassurance that they can see the "dickhead on the bike" from miles away is good to hear. The road trains all talk to each other via radio which is how I've come to be known as the "dickhead on the bike". They'll go past me and then radio the other trucks just to let them know where I am. One of the blokes told me the truckers know where I am better than any GPRS system.
I slept up at the old Tennant's Creek Telegraph station two nights ago. It's an historic building from the 1800's but there's no one around at night so a good place to camp. I did the tourist tour on my own at 2 in the morning and noticed that some guy had cycled a similar route to mine in 1899. The roads there would have been single track dirt roads with literally nothing for thousands of miles. When you read things like that it gives you a real sense of perspective.
I rode into Tennant's Creek yesterday. It's my first town with a supermarket since Mataranka so a good place to stock up on tinned food. After a bit of shopping I headed for a cafe for some breakfast. While I was there I got talking to a girl called Melissa who's living here for a few months, house sitting for some friends. We chatted for a couple of hours as she'd been traveling all over the world so we had plenty to compare and discuss. When she got up to leave she said I could come back to the house for a shower and after I established there was also some internet access I flew over to the house. After showing me round the town she said I could stay for the night. I was thinking about it last night and this is the first time I've been inside a house since I left England.
She's treated me like a king since I got here. Constant supplies of food and cups of tea and all those luxuries that you just don't get when you're traveling. I think because she's traveled she understand the things that you miss. This morning I woke up to find she'd gone out and bought me some cereal because I'd said it was one of those things I missed. It takes an immense amount of trust to invite a complete into your house and christ do I appreciate it. She's cooking me a lunch at the moment and then I'll chill for a few hours before heading off again.
Those of you with a knowledge of Oz will know that if I'm in Tennant's Creek I've missed my turn off to head to the East Coast. The turn off to Queensland is about 20 miles back the other way at the Threeways roadhouse. Reason for this is I've decided on a bit of a detour. I guess this in itself is a measure of how much more I started enjoying Oz after my initial problems. My plan is to head down to Alice Springs and then out to Ayer's Rock before making my way back to Tennant's Creek. In terms of a detour it's around 1200miles/2000kms so will be about an extra 20 days riding. I've started enjoying the outback and it seems only right that I go check out the Big Rock. After that I'm going to reward myself with a 400mile/600km bus trip across to Mount Isa in Queensland and then it'll be about another 400miles to the coast line. I haven't decided yet if I'm going to head up to Cairns once I reach the coast. I'll check the timing and then see how much visa time I've got left to get me down to the more populated South East where the main airports are and my eventual jump off to NZ.
Anyways best go as lunch is ready and I'm going to have a couple of goes on the Playstation.
Lots of Love as Always,
Craig. XXX