Yo peeps,
Greetings from Singapore!!!
Yeah well that's SE Asia done dusted and put to bed. Bring on Australia I say. Hopefully that conveys a sense of bravery and daring but, in reality, Oz scares me a bit. I'm looking at a map of Oz as I write and well, ummm, there's nothing there. Just a lot of nothing with big bits of nothing in between. I keep on staring at the map, willing towns to appear with names like Cokesville, Foodstown and Waterdorpe but it's futile, the nothingness stays. Ah well.
Well what's happened since my last email? I left the island of Koh Tao a little over two weeks ago. I felt a bit stupid after my last email because I ended it with a slightly melodramatic line about being on my own. In terms of waking hours I was probably on my own for about 3 hours. I caught the nightboat out of Koh Tao and landed at Surat Thani around 6 in the morning. As I was loading my bags back onto the bike I heard a voice say "Hi" and turned around to find a couple of fellow long distance cyclists doing the same thing. I knew they were long distance cyclists by that hungry look we all seem to develop after a few months. Their names were Mike and Petra, a Dutch couple who'd been on the road for 8 months taking in a pretty hardcore route of Hong Kong, China, Laos, Vietnam, Cambodia and Thailand.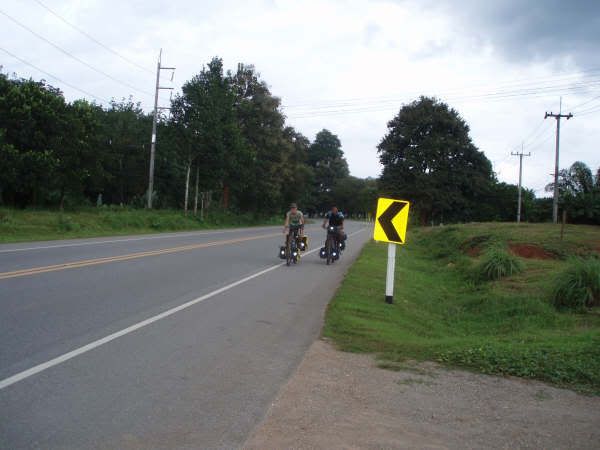 We went for breakfast and afterwards I asked if they minded if I joined them for a while. I'd made the mistake of showing Mike my mileage through Europe and I think there were a bit worried I'd be pounding them into submission demanding 100 miles in a single day but the island had taken the wind out of my sails and I was finding the cycling pretty tough going. It was tough enough that I was starting to worry that maybe I was losing my motivation a little. Whereas in Europe, banging out sequential 100 milers didn't seem like a big deal, in SE Asia anything over 60 miles was proving to be difficult.
We crossed over to the West Coast of Thailand, heading for the town of Krabi. Somewhere along the way, Mike and Petra seemed to get used to the idea of cycling with someone else. I think initially they weren't too keen and I can understand that. Cycling with someone else can cause problems, especially if you're talking about people of differing abilities or/and differing interests. There's no faster way to take the enjoyment out of cycling that to have someone who's pushing you over your comfort level for hours on end. I tried to take this into consideration and figure out their preferred pace and also to cycle a bit ahead to give them some time alone.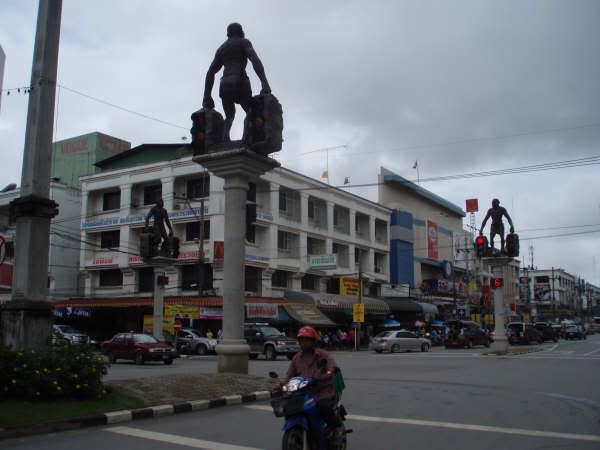 We ended up cycling together for 4 days and it was great to have the company as well as someone to share the beers with. On the 4th day we rolled into the town of Trang and turned up at the usual backpacker haunt to be greeting by the owner of the restaurant and the guesthouse. It's pretty embarrassing because whenever you tell anyone in SE Asia what you're doing, they always exclaim how strong you must be and usually follow this up with feeling your arms or something. Embarrassing because, in the main, long distance cyclists don't actually look very strong. We just look underfed and a bit dirty. Anyway the owner grabs my arm and says "Ahhhhhhh you strong like chicken". First thought is what type of chicken has this guy got on the menu and I start looking round for big 6 foot muscle bound chickens but then I just realised his English is probably based pretty much on what he serves and I should be grateful he didn't say I was strong like prawn.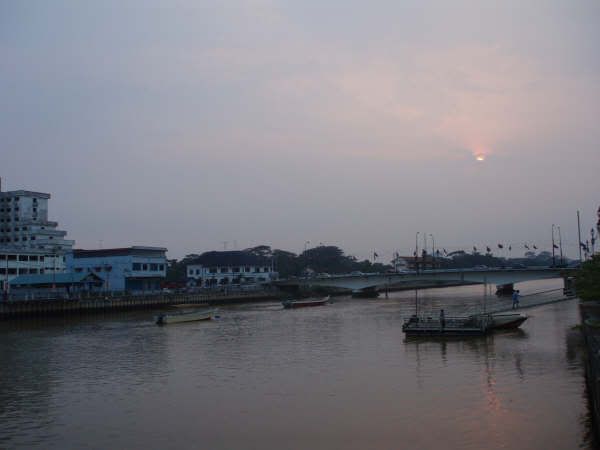 I left Mike and Petra in Trang the following morning. As I said, it was great to have the company but I think they were compromising slightly on the distances they were doing and so was I. Their type of traveling is more the meander and take in the sights whereas mine is very much the pick the start of a continent, pick the end of a continent, and go for it. If something stops me like Koh Tao then I'll stop for a while but I like to keep moving. I think 4 days together was the correct amount as I think that's probably the amount they were willing to compromise and the same for me.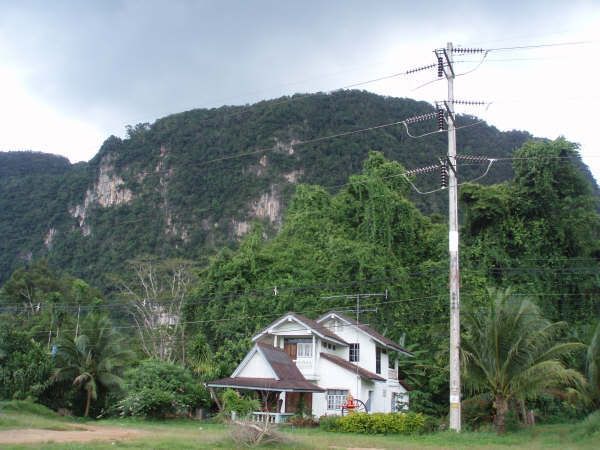 Trang is about two days riding from the Thailand-Malaysia border which I rode on my own. At one point, some guy on a motorbike pulls alongside and starts chatting away to me. He asks me if I'm on my own and, when I answered yes, he pointed to the surrounding countryside and said no, that I wasn't alone, that everyone was with me. Now I have no idea if he knew how poignant that was but, for me, that moment encapsulated Thailand. He's right I never was on my own. I'm not sure I can ever convey how fantastic Thailand was. How it suited me and what I was doing perfectly.
The best way I can explain Thailand is that it felt like anything was possible. I don't just mean for me but also for the people I met. Every time I thought something would be a problem, it turned out to be just another positive experience. It changes the way you think. You just stop worrying about the future because you know that when you get there, something will work out. From a cycling perspective it was more than perfect. It's like God asked a cross section of cyclists what they like and so we got roads with wide hard shoulders, drivers who respect you and give you space, a flat landscape but with beautiful rock formations that the roads meander round, restaurants every 5 minutes serving rice the perfect food, stupidly cheap accommodation and to top it off the friendliest and most helpful people you could wish to meet. Obviously some weirdo asked for lady boys as well but hey ho. I stopped wearing sunglasses when I was cycling in Thailand because I noticed that when I wore them, the people waving and smiling weren't quite so open and I wanted to experience that openness to it's full effect. One of my best moments was when I went past a school of kids who were just leaving for the day and they were all waiting outside and I reckon every kid in the school waved and said hello to me.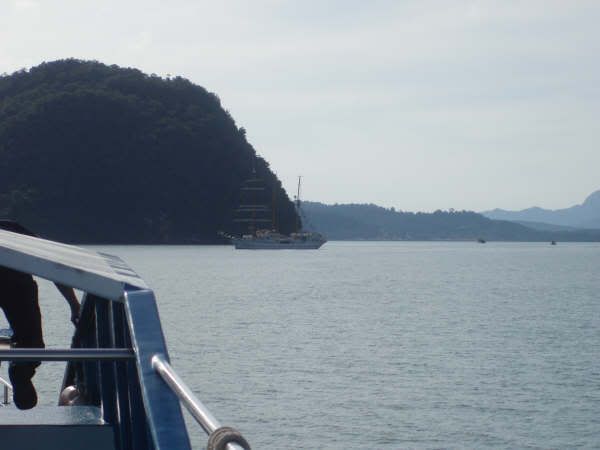 As luck would have it, my rest day fell on the day I was leaving Thailand. Instead of taking the land crossing, I caught the ferry and entered Malaysia via the island of Pulau Langkawi . As usual, customs was interesting. Something about being on a bike instantly makes you safe in the eyes of customs officials. I remember entering Greece and I wasn't even asked to show my passport. I was entering from Macedonia , through one of the major entrance points for illegal immigration and the guy just waved me through. The same thing happened in Malaysia. Everyone else was being searched and sent through the metal detectors and I was just waved through. This could be an important tip to any potential illegal immigrants amongst you. Just get a stupidly heavy bike and you're laughing.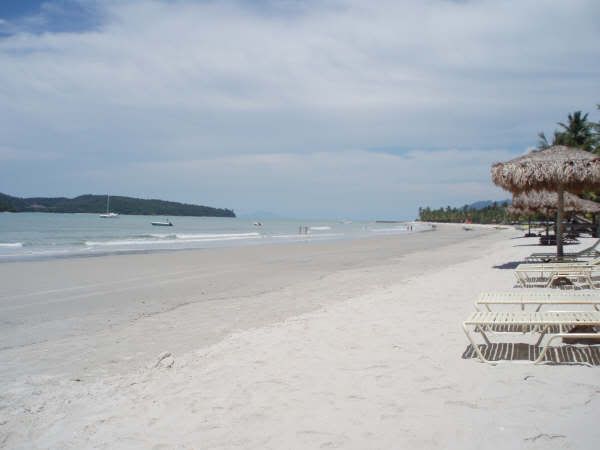 In terms of a holiday destination, Pulau Langkawi is fantastic but it's probably a bit too perfect for a long distance cyclist. There's certain places which make you feel a bit self-conscious that you're a little bit too shabby, a bit too starved looking and this was one of them. I left the island after my rest day and headed back to the Malaysian mainland. From there I headed back over to the East Coast. I must confess I cheated a little here and caught the bus. The main reason was that I'd read that Highway 4 was an engineering masterpiece. As a cyclist, I don't like engineering masterpieces because that usually means tunnels and I hate cycling through tunnels so I had my first experience of SE Asian public transport. My over-riding impression was one of being frozen. I'm not sure what it is about the public transport here but if you aren't freezing to death, then they think there's something wrong. The bus stopped for 5 minutes so I went and got my rated to -17C down-filled sleeping bag and, I'm not joking, but I was still cold. I have no idea why or how people put up with it.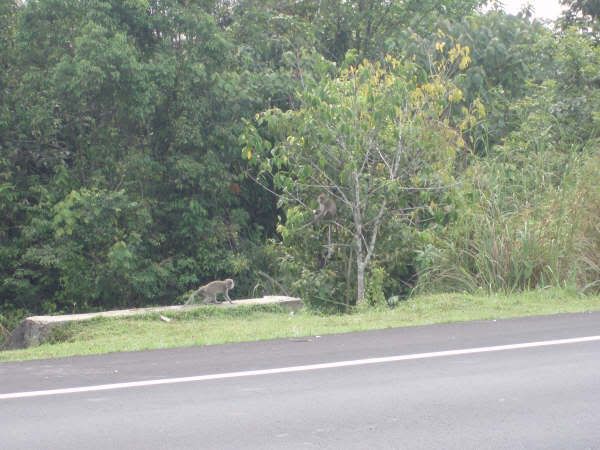 After reaching the East Coast I started trying to put the miles in again. I say trying because I ran into the same problems I was having in Thailand. 60 miles was proving to be difficult and usually after 40 I started feeling physically ill. I thought it may be dehydration but I was stopping for plenty of water so I had no idea what the problem was. It was around this point I had a couple of bad days psychologically. When you start struggling like that, you start to question everything, "why the hell am I doing thi?s", "what's going to happen when I get home?", "how can I expect to cycle through the Australian outback when I can't manage 60 miles a day?", "will I have enough money to complete this?". I'd read about this when I was researching my journey but, even in Serbia, when it was really tough, my motivation was still there. Just turning the pedals had begun to feel like a chore. These feelings are obviously made worse by being on your own. You haven't got anyone to reason with you or to encourage you so, once you start going downhill, it's difficult to stop. I named it my Damascus moment as I'd read about another guy feeling the same on the road to Damascus. Plus mine happened on the road to Pekan and Pekan moment sounds like a dessert.
I got out of it partly by accident and partly by design. The accident was that one evening, around 4ish, the rain bucketed down. This was the first rain I'd had since Thailand and I ended up missing my hotel because I couldn't see a thing. I stopped for a few minutes and when I got back on the bike again I felt a lot better so I thought I'd press on. I'd done 50 miles by this point and usually I'd be groveling into some town with a pounding headache but today I felt good. I kept on going and by 7 I'd done another 50 miles for my first 100 miler in SE Asia. The point was I'd been cycling during the worst part of the day, during the build up to the monsoon season and I was just asking too much of myself. Especially when you're doing it every day. The next day I got up early, did some miles in the morning, and then rested for a few hours before getting some miles in late afternoon to early evening. Suddenly doing 90-100 miles was achievable with a bit of planning and forethought. The good thing is it took a load off my mind about Oz. I may even do some of my cycling at night as I've read from a water pov, it just isn't profitable to cycle during the hottest part of the day.
The design was that I took a day off in a great little town called Mersing and put my photos on the internet. The guesthouse I stayed in was how I'd imagined backpacker hostels to be and the perfect place to take a day off. I spent a day sorting the photos and this got me thinking about the great experiences I'd had. Sometimes when you just press on, getting in the miles, you forget what's gone before and going through the photos really helped. Here's a link to the photos which should hopefully work. I've put split them by country but when I get more time, I may add comments although some of them are pretty self explanatory.
http://s66.photobucket.com/albums/h248/thecrankerRTW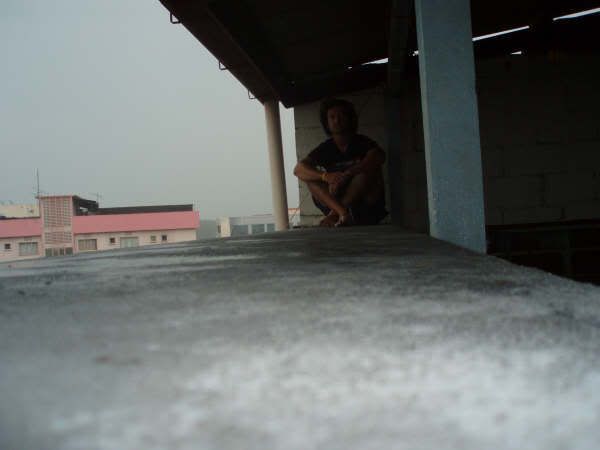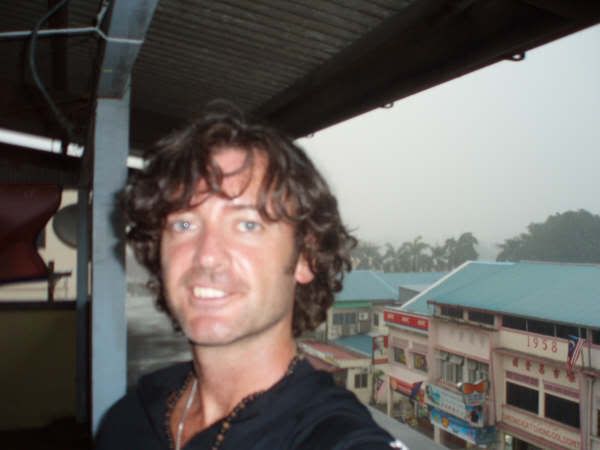 I left Malaysia yesterday. I think my impressions of Malaysia are slightly tainted because I went though a difficult time there. From a cycling perspective, it suffers in comparison to Thailand, but then so does everywhere I've ever cycled. It's a wonderful country shaped heavily by religion. The mosques are stunning and there's something incredibly atmospheric cycling though town when the call to prayer sounds. The people are still friendly but there's a hint of shyness. None of this holds for the children though who can spot a westerner on a bike from a 1000 yards and still get a "HELLLLLOOOO" in. The tourists also differ in Malaysia. In Thailand, I was usually one of the older travelers but, in Malaysia, it was the opposite with pretty much everyone being not only older but they'd also usually been traveling for a long time. I think it's because in the main, the nature of Malaysia means who have to be interested in the traveling rather than the partying. Things you could get away with in Thailand, just wouldn't wash in Malaysia so you have to make sure you appreciate the people and the culture.
Now I'm in Singapore and it's great be here. Mainly because I ran out of books about 200 miles ago and I suffer without books. I found this brilliant bookstore and spent hours just stroking and cooing over the books like a demented lover. They even stocked a book I've been searching for since I left Europe. I've also developed an interest in Balkan history and found a couple of cracking books to keep me going. Think my main weight on the bike will be books and water in Australia.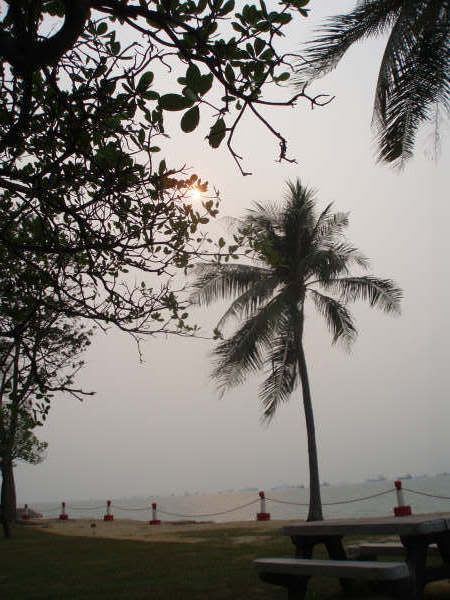 I found a campsite on the East coast of Singapore. It's between the city and the airport which is perfect. Camping is free, which is great, as Singapore isn't the cheapest of places although, as usual, I seem to have camped in some lovers area as young people were still whispering sweet nothings to each other at 5am and keeping me awake. The campsite also looks out onto the shipping lane into Singapore port and it's just miles and miles of boats. Looks like another city at night. Bizarrely, the campsite also has a bowling centre and so I went in last night and had a few games. Lanes suited me and it was like I'd never stopped bowling. Pro-shop owner came out and we spent a while talking about bowling. I even got invited to their anniversary tournament but I won't be here as I fly to Darwin on Monday night at 20:00 to begin the Australian stage of my journey.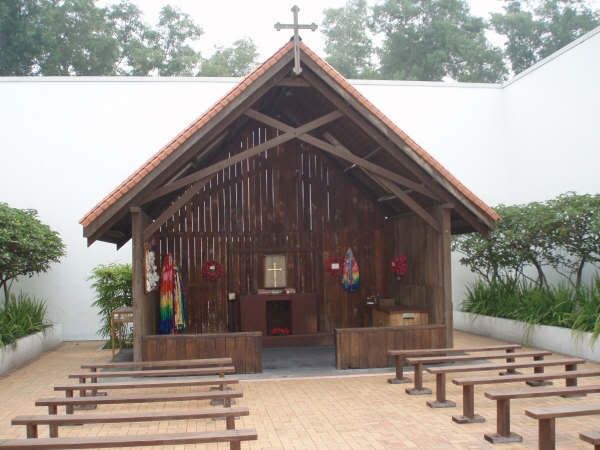 Once I leave Darwin, I have no real idea when I'll send my next email but I get the feeling it'll be a while. Maybe Broome but I literally have no idea and plus I suspect things like water may be of more interest to me.
Anyways best go as Singapore is famous for it's food and I'm off to sample a few of the food courts.
Lots of love as always,
Craig.
XXX