Hey guys,
Greetings from Szeged!!!
Well it's Sunday morning and I'm about to leave Hungary and enter Serbia and Montenegro. I was up at 6am this morning and got a quick 20 miles in so a coffee and an email seems deserved before I head for the border.
I left Slovakia about 3 days ago and it's there that Ben and I went our separate ways at a non-descript bridge on the Slovakian-Hungarian border. He headed South-West to Croatia and I headed South East to Budapest. It felt strange saying bye as you get used to cycling with someone pretty quickly. It was good to have the company both from the companionship aspect and also the sharing of the responsibilities.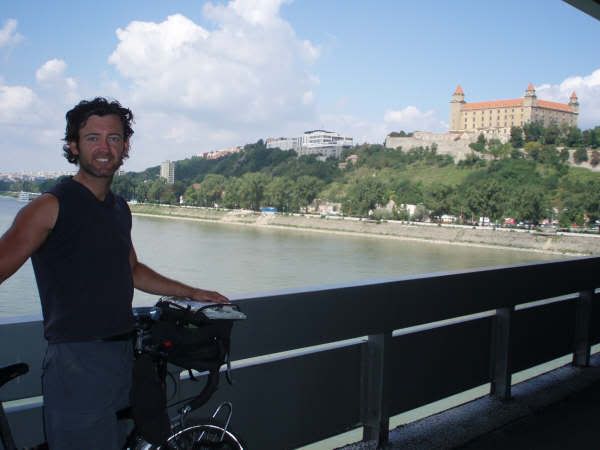 Bratislava was a fantastic city. One of my favourites so far. We played tourist for a few hours, looking at the beautiful architecture and soaking up the exotic ambiance of an East European city. For the single guys out there, the city also had the best looking women I've ever seen in one place. Ben and I agreed we had to leave or maybe we never would. For once, leaving the city proved to be pretty easy as we just headed for the Danube and carried on East.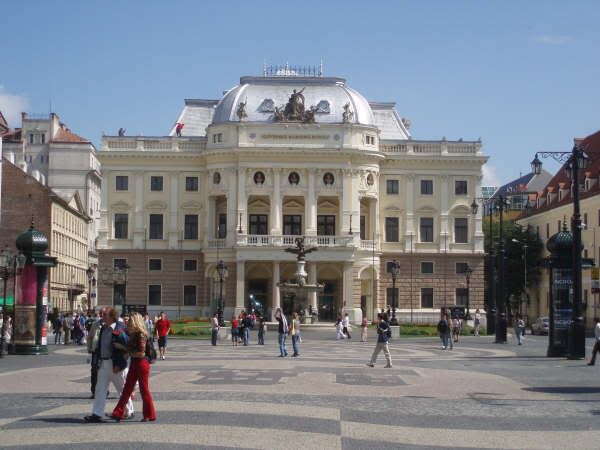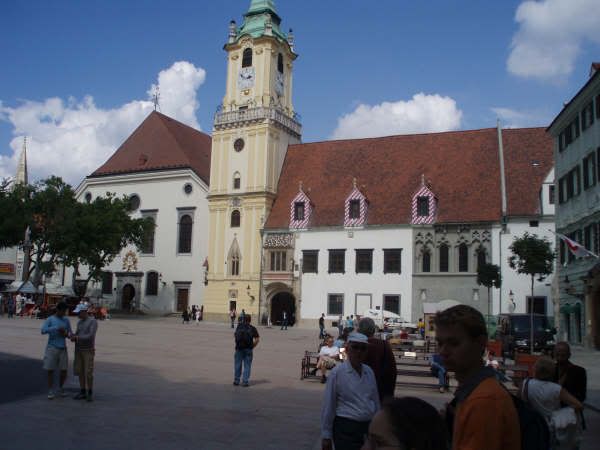 We spent the night in a small town called Sap and pitched on the local football pitch which the locals generously offered to us instead of continuing to the next camp site. As it was going to be our last day cycling together, we treated ourselves to a meal at a local restaurant. Everything is much cheaper since I left the EU and I had baked salmon, two desserts and two beers all for about 4 quid. As a bonus the people were also friendly with a local beauty translating the menu for us as both mine and Ben's Slovakian is a bit lacking. Best food I'd eaten since leaving the UK but tbf it was mainly up against pasta and the like.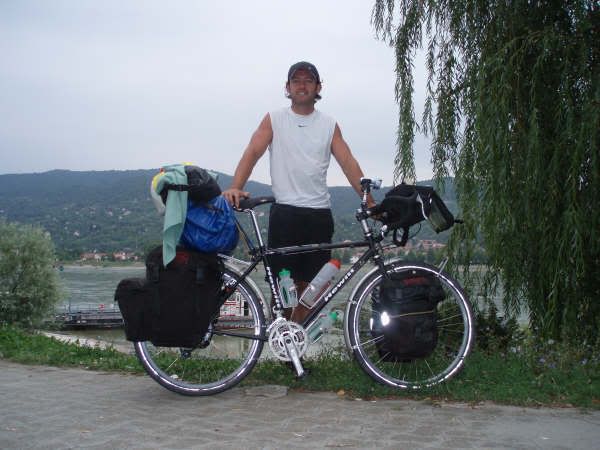 The day after and I was in Budapest. Three European capitals in four days. tbh I made a bit of a mistake as I arrived there around three in the afternoon so didn't have as much time as I'd have liked. It's a fantastic city and the people were incredibly friendly for a big city. Three groups of people approached me separately, asking me questions and offering well wishes on my journey. At one point I was trying to hold a conversation with two groups of people as others would overhear and come and listen. Earlier in my trip, people always commented on how far I had to go and how little I'd done but now the miles are increasing, the emphasis has changed to an interest of where I've been. One guy in Budapest even gave me some money as good luck for the road ahead. Maybe that's what got me out of Budapest as it's a tough city to leave. The roads are pretty busy and not really designed for cyclists so I had to have my Bradford Road awareness head in full operation. It didn't help when my front rack broke and I needed to do some emergency repairs on the road side.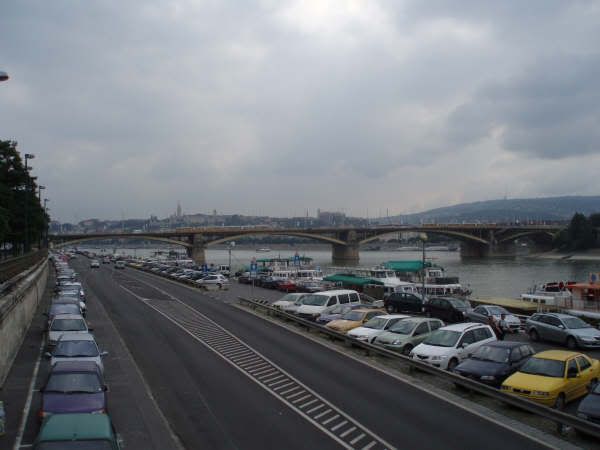 As a cycle route, Hungary has been great. It's as flat as a pancake and yesterday was another 100 mile day. I saw a campsite on the map and promised myself I'd treat myself if it was after the 100 mile mark. Turned out to be 99 miles so I carried on another few miles and slept in the forest. I must have chosen to sleep near some kind of local lovers lane as cars kept pulling up and I'd hear giggling and talking before driving off (presumably she said no). Last night was also the first night I chanced sleeping under the stars since Denmark as the weather has been awesome. Luckily no rain and a good night's sleep. The people of Hungary have also been very accommodating regardless of the language barrier.
Hopefully the flat terrain will continue. I haven't seen a hill since Amberg in South Germany and it's been bliss. The downside is I reckon my legs have forgotten what a steep hill feels like and I'm hoping they don't complain too much when called back into action. I've had a quick look at the map and I reckon south Serbia and Montenegro is when the hills start and then continue all the way into Greece. I have a friendly face to meet up with in Greece which is something to look forward to.
Not sure when I'll hit Athens but I'm reckoning on 10 days. I'm still undecided about India as doing the sums, even if I cycle round SE Asia 10 times I'd still get to Oz too early for the end of the rainy season. I'm considering doing the opposite and heading straight to SE Asia from Athens and then trying to get to Oz before the rainy season starts. This would have the obvious disadvantage of cycling Oz in the summer, but would also mean I'm doing NZ at a more pleasant time of year and then across the States in the spring. Then I'd probably come back through Europe from Spain or Portugal, through France and then England. I'm still undecided but I'm leaning in this direction as the idea of having to slow down just doesn't appeal to me. I love putting the big miles in and I'd rather continue in this vein rather than just feel I'm passing the time.
Catch you all later. A border post manned by what will no doubt be an incredibly unfriendly man awaits me.
Lots of love as always Craig.
XXX