Yo all,
Greetings from Hamburg!!!
New country and a new keyboard. Damned Germans have moved the keys around again.
Man Gothberg seems like years ago but alas it isn't.
Well my day in Goteberg was brilliant. Luckily my alcohol tolerance has dropped to zero. I say luckily because at 5 pound a beer you don't to be spending too long in the pub. I met a cool Swedish cyclist and we sat and compared notes for a while and judged the Miss Sweden on a Bike contest that was obviously going on while we were in town. You can see why so many people cycle because it really is the best way to watch all the beautiful women on bikes. I treated myself to a Chinese afterwards which after a week of canned food and bananas was heaven.
On the way out of Goteberg two lovely swedish women in a car asked me if I needed a lift. maybe they were joking or maybe they just wanted to use me as their sex toy all the way down to Malmo but being the dutiful round the world cyclist I am, I declined their admittedly tempting offer.
After Goteberg I arrived at Varberg were the ferry leaves for Denmark. Originally I'd intended to cycle down to Malmo and then go across to Copenhagen but when I arrived in Varberg the ferry was leaving in 15 min and it seemed like a sign. On hindsight it was probably just a ferry but off I went to Denmark anyway.
I originally intended to then cycle round to Copenhagen to meet up with Jorgi but it turned out she couldn't get there till the 13th which would have meant about 3 or 4 days hanging around an incredibly expensive city which I just couldn't afford so I scrapped those plans and headed for Germany.
I enjoyed Scandinavia a lot. Their approach to life is incredibly relaxed. For starters their day seems to start so much later than our own. Even in Goteberg on a Friday morning at 9am the place was still quiet. Only at about 11 did life start picking up.
On the cycling front it's one of the best places I've ever cycled. Their approach to traffic is entirely logical in that the most vulnerable tend to have the right of way so the pedestrians are more important the cyclists but the cyclists are more important than the cars. It isn't a half-arsed approach like we have in the UK where someone paints a few lines on the side of the road at inappropriate places and then the cars just park in the cycle lane anyway. It's all carefully thought out and hangs together perfectly. The effect this has on the community as a whole is obvious as people are always out and about on their bikes or walking. The stop and talk, they cycle as families, they spend time together. I think in the UK by becoming a car culture we've surrendered our communities and now people are scared of the world outside their houses and their cars.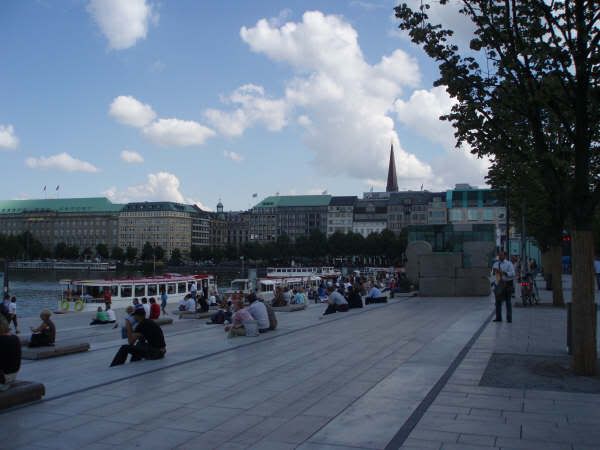 Entering Germany has been a new a different challenge for me. For one the sheer number of people mean many more towns and towns are an obstacle for a cyclist. Each town entered has to be exited and you'd be amazed how difficult it is to leave a town by bicycle. Most towns are designed for cars and so numerous exits aren't an option for me which has meant a lot of lost time just navigating my way around. The other difficulty is that they seem to operate a very similar system of land ownership to the UK so most land is fenced off or farmed. This combined with the number of towns obviously reduces my options for wild camping. Last night I found a good spot after about 50 miles but I wanted to press on past 70 miles for the day so carried on only to struggle for a spot. Then it started raining. I found a spot in the end but I'd lost the light so it was just a case of crawling under my tarpaulin, try and stay dry and get what kip I could. It's another lesson really that I should try and do more of my cycling in the early part of the day so I don't feel the need to press on so late.
It's all lessons learn't. On hindsight I think I bivvy bag would have been a much better idea than a tent. Most nights I don't bother with the tent as it's too visible and just takes up too much space on the ground. The idea initially was that I'd be spending so much time in a tent that I'd be thankful for the additional space but in practice it hasn't turned out like that. I just stop cycling, get to sleep and then start cycling again. I bivvy would have been more suited I feel. At some point I may send the tent back to the UK and buy a bivvy bag. We'll see.
As for the future, Germany is a big country and I don't think I'll be able to blast through it like I have the other countries. In a way that's a shame as I find cycling over a border to be great motivation. I expect Germany to take me around two weeks to cover as I'm covering it from North to South which is going to around 1000 miles in total. Then I'll head to Austria and then Italy. Just take it as it comes.
Entering the euozone has also meant a serious reduction in prices. I found it impossible to keep to my tenner a day target in Scandinavia but in Germany 6 pound a day has proven to be the norm. This also means I may be able to up the number of days I use campsites which is useful for keeping both myself and my equipment in good condition. More importantly I can now afford the odd beer.
Tomorrow is my intended rest day so I'll head south from Hamburg today and then find a camp site tomorrow and spend a day resting and do some equipment maintenance.
Catch you all later,
Love Craig.
XXX