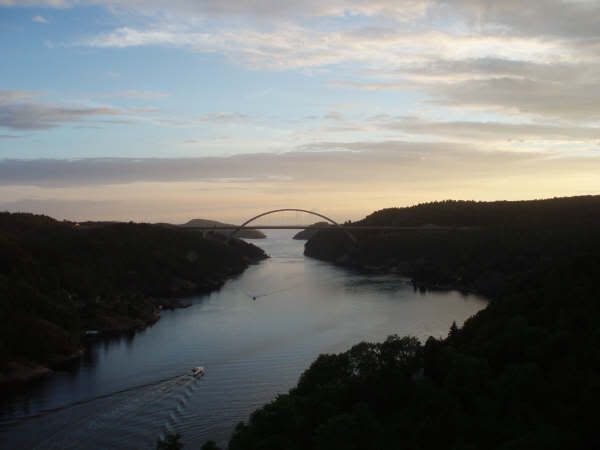 Mmmmmmm well the more geographically aware people will have noticed I'm a bit further than anticipated. Since I last emailed from Larvik I've averaged around the 70 mile mark per day. Number of reasons for this. For one Sweden is thankfully been a bit flatter than Norway. For two I've had a tail wind since the Swedish border and so I decided to make some hay. My rest day was supposed to be yesterday but I decided to take my rest day when I hit Gothenberg as aside from being a bit more interesting than nowhere, nowheresville, it'd allow me to do a bit of Craig admin. I've booked into a camping site just outside the city and now I'm treating myself a bit. I've cycled almost 500 miles since last Friday and tbh when your time is divided between cycling, camping and eating you don't get much of a chance to meet people and so a day in the city was called for.
My current rate of progress does give me a couple of problems. At my current rate I'll hit Australia far too early so I've changed plans slightly. I'm going to head for India after Europe because this will put a few months between me and Oz. My plan is to get out of Europe as fast as
possible. Mainly because it's just too expensive. Any notion of some time off the bike just isn't viable at the moment whereas a week off in Asia isn't going to break the bank as much. I've also changed my mind about getting a ferry to Denmark once again for cost reasons. Instead I'm going to cycle from here to Malmo and then cross over to Denmark for free. Hopefully that'll be perfect timing to meet up with Jorg.
Since Larvik it's been mainly tough cycling and tough camping. When I started off I said I'd treat this as a 9-5 job which has proven to be a bit naive as it implied cycling followed by watching Eastenders. It's really nothing like that. The main problem is that in reality I'm not a tourist and I don't have tourist money. My day is more like start cycling at 9 and finish at 9 with a couple of breaks thrown in to get food and eat and then I start looking for somewhere to sleep. I'd say the wild camping aspect of it has been the toughest for me. My fitness of probably at a stage now where I can cycle all day without too much discomfort. The tough bit is really not knowing where I'm going to sleep that night. I start looking for places around 9 at night as this minimises the time I'm visible before darkness. Obviously by the same token I have to make sure I buy my food at the right time as if I buy the night's food too early then I have to carry it till I make camp. Too late and I may have missed the last shop. I've also taken to carrying a 5 litre bottle of water which apart from making to bike even heavier gives me a lot more leeway for any mistakes. It's all a learning curve and a very satisfying one at that. I can feel things just clicking into place as I rise to the challenge.
When I started I was following the North Sea cycle route. I abandoned this idea somewhere after the border. Mainly because in essense it's a tourist route designed to take you to places where the price of an ice cream makes you wonder if they misunderstood my question as "can I buy your entire town please". The other reason is that when I arrived in Sweden I just couldn't
find a map. I asked at a petrol station and he suggested I try Stromstad. I had to point out that I needed a map to get to Stromstad. I eventually got one but only after accidently wandering onto the E6 which is the same as our M1. It's not as bad as it sounds because the drivers here in the main are fantastic. The give you plenty of room and are very courteous. It was here I found a map. This is probably better as following a preplanned tourist route isn't viable in the long term so I may as well start now.
As for people I've met I was pretty lucky to have met a German guy called Chris who as luck would have it lives on the Danube cycle route which is on my route. He was on his way to Bergen with his gf and I suggested that rather than double back to Oslo maybe he could circle round to England. He'd been an exchange student and said that the family he'd stayed with weren't very clean and we had a laugh at national stereotypes. I was going to suggest that maybe it's because he bombed their chippy but then I remembered the Fawlty Towers sketch and kept that one to myself. We've exchanged numbers and I've got a place to stay and some cold beers when I reach Tootling. I have no idea if that's how you spell it but I prefer there's something quaint about my spelling so I'm sticking with it.
Apart from that it's just been the usual encounters where people ask me where I'm going, I tell them and they tell me I'm mad. There something satisfying about the Scandanavians telling you you're mad. Now I just need the Italians to tell me I'm a passionate hopeless romantic and my life is complete.
Tonight I'm going to wander the streets of Gothenberg and just enjoy being amongst people before I head off around 11ish tomorrow. Buy an English newspaper and watch the world go by. I'm forcing myself to have 24hrs off the bike as the legs have taken a bit of a hammering since Kristiansand. I feel strong but I don't want to push it.
This is pretty much my second week at this and yes it is tougher than I imagined. Yes I've had to come up with little aims and goals to keep myself going. Yes I've started talking to myself but it's good intelligent conversation. It is enjoyable though and it is rewarding as I improve both physically and mentally.
As an side I think I've found a cure for life going by too fast. I know to you guys it feels like I sent an email a few days ago but to my it feels like a lifetime. At this rate I'll have lived 100 lifetimes in the next 18 months.
Anyways I best go as a street side cafe and a newspaper has my name on it somewhere.
Catch you guys later,
Love Craig.
XXX