Hmmmmm……. interesting few days.
Well the goodbyes were pretty tough and emotional. tbh the first 30 miles or so were a combination of intense sadness at saying goodbye to pretty much everything I love and care about and intense happiness at saying hello to the rest of everything I love and care about. None of this was probably helped by the banging hangover I had. On the way out I cycled past a bunch of guys from Halifax Imps who shouted out "Hope you enjoy your holiday Craig". It felt nothing like a holiday and tbh it felt like cycling in 30C heat with zero energy and a lot of confused emotions.
I stopped off in Skipton for 25 glasses of coke and a bite to eat. This seemed to improve matters no end. Got back on the road again and headed for Leaburn in North Yorkshire. Arrived there around 20:00 pretty tired and looking forward to a good meal. Found a nice campsite which was convieniently located on the top of Mt Everest. Just what I wanted after 60 miles on the world's heaviest bike. Treated myself to a pub meal and then hit the sleeping bag with a passion.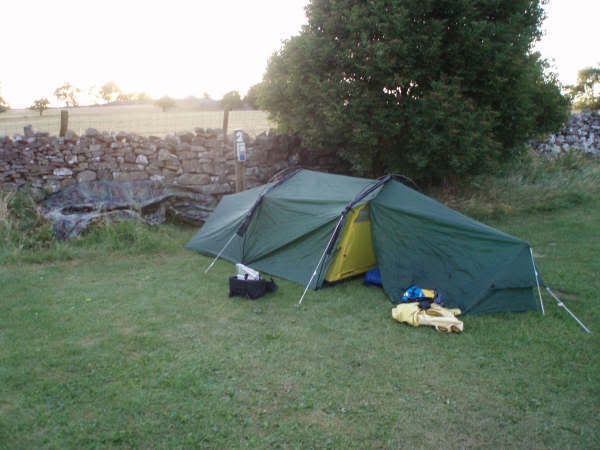 Next morning had a breakfest of grapes and milk and started to notice the universal truth that a mad bloke on a bike weighing 50kgs plus attracts conversation. People just wander over and ask me wtf I'm playing. To coin Pob's phrase "what are you doing you idiot". It's good though as it's a chance to tell people why I'm doing this and raise awareness for Macmillan. As I'm to find out later this can have some great results.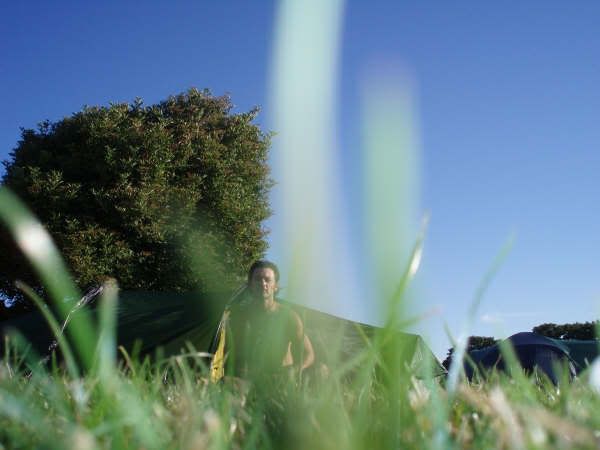 Plotted a course for a place called Beamish which is about 15 miles outside Newcastle. I really wanted to break the back of it over the first two days so I was as close to the Ferry as possibe. It was another baking day and the hills were killers. At one point I was going up a hill at a whole 4 miles an hour. I had these humilation visions of people walking past me so I pushed on for 5 miles an hour. Ever competitive.
I stopped off in lunch in Bishop Auckland. One of my motivations for doing this journey was just the chance to meet new people and maybe learn some new languages. Didn't realise it's happen as early as the second day though. I asked the Geordie bird what sandwiches she had and even after repeated herself 4 times I didn't have a clue. I took a guess and said ham and cheese but it turned out to be the only place in the world that doesn't do ham or cheese sandwiches. Eventually we negotioted a couple of sausage sandwiches and 32 glasses of coke.
Set off again and I'm sure someone had turned the heat up. On top of this my arse was starting to get sore so the next 35 miles to Beamish were pretty tough again. There really is a world of difference between cycling my 7 kg Cannondale up hills and dragging the beast over hills. I know things will improve as my fitness and strength improves but that didn't make it any easier. I just plodded on, each hill on the horizon almost bringing me to tears.
I arrived in Beamish about 19:00. Another 60 miles out the way. Luckily the campsite was at the bottom of Mt Everest but even that of satisfaction was wiped out because it meant I'd have to climb it first thing in the morning. I've learnt the universal truth that campsites are either in valleys or on hills.
I set up camp only to find out the guy at reception had put me on someone elses plot. Ended up in a bit of an argument with a drunk Geordie but after he found out what I was doing he become my best mate and kept coming over and asking me questions about my trip. I've learnt another universal truth that Geordies are the nicest people in the world sober but the worst when drunk. It all ended well and as per usual I gave out the justgiving website. It's worth a shot.
Cooked my first meal on the stove and had a few cups of tea. It felt great tbh and It's amazing how the human bodt can forget pain. A few hours befoer I'd been grovelling up a hill begging God for mercy and now I was feeling thankful for a cup of tea and some good company. The hills forgotten.
Set off next morning for the ferry about 11ish as it was about a 20 miles ride. Crawled back up the hill but as it was first thing, it didn't feel too bad. Lots of well wishes from people as I was cycling through Newcastle. Sober you see. "Where you gannin pet?", "Gaanin Roond the World Like was my reply. I think most said "Champion" and then took their shirts off or some other cliche.
Got to the Ferry and asked for the queue for the ferry to Norway. Women looked at me blank. Figure this isn't good as a big ferry is the type of thing I expect she'd know about. Turns out travel agency have screwed up my tickets and I'd missed my ferry by a day, champion. Lots of phone calls later and the travel agency admit thir mistake and set about sorting it out. Lots of options investigated and eventually they get me a ferry for the Thursday. In their defense it was a mistake and they sorted it out to the best of their ability. The girl who took the booking also too my website address so hopefully more donations will be fortcoming. People make mistakes and as long as they sort them out I'm not bothered. Plus they put me up in a hotel for 2 days which gave me a chance to sort my bum out and buy various things I'd realised I needed along the way. Oh and I got to see Superman Returns.
I also bought a new simcard so I can make and recieve calls internationally. I'll email the new number once I remember it.
Well my ferry is today so it's bye to merry England and hello to Norway.
Hopefully this email isn't too long but tbh it's also my record of where and what I've done.
Miss you all tons,
Craig xxx